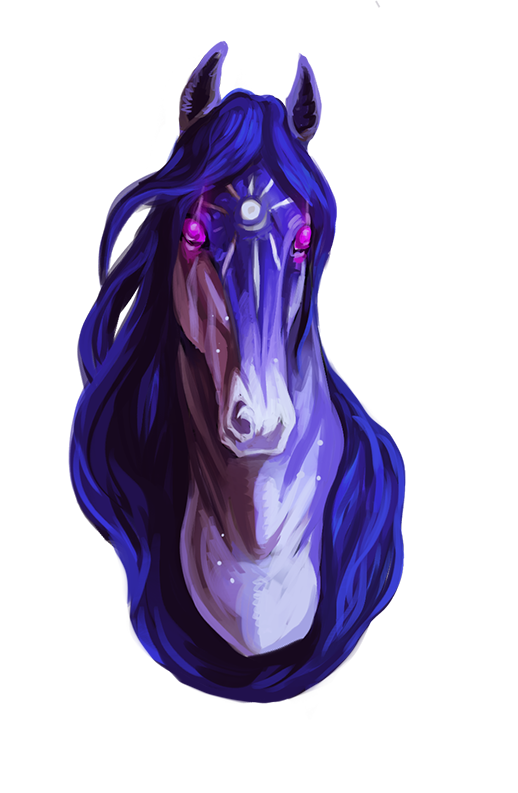 I
t took her an incredibly long time and a great many back-and-forths to finally decide on what she would wear for the Dusk Ball. On one hand, Phoebe wanted to wear
everything,
to drape silks and veils and whole swaths of fabrics across her body in fanciful, alluring ways, to decorate each appendage with glittering jewels and silver metals, all in an array of colors that would compliment the natural orange, pink, and purple of her body. It was all just so
tempting
--especially as much of it was being loaned out to allow everyone the opportunity to dress up and participate--and she wanted to impress each new face she would see there. But at the end of the day--or rather, just before the ball--she decided simple was best. Why cover up the natural beauty of her body, her star-dappled sunset coloration that in itself would draw eyes as surely as any ball gown would?
Her attire was minimal as she clipped along to the courtyard, her steps bouncing and an excited, overeager grin brightening her already bright features. A slim swath of silken fabric, deep purple like an extension of her mane, draped across her right shoulder and trailed just slightly behind her right foreleg, enough for an understated dramatic effect but not so long as to become tangled in her feet when dancing. A thin silver chain appeared to hold it in place around the base of her neck, while hidden clips beneath the fabric carried much of the weight, keeping it firmly in place to prevent it slipping down her side. A swirling-patterned metal cuff encircled the base of her tail, a large crescent moon embossed across the top, while similar metal cuffs attached to the outward edges of her ears. They were cumbersome and heavy, but they looked much too pretty for her to leave them behind. There was no jewelry, exactly, but a few clear, crystal jewels had been placed at the corners of her eyes, and a larger, more dazzling one, placed in the center of her star.

A small, excited squeak escaped her as she came upon the festivities, all the guests milling about either standing or lounging in casual discussion, drinks and food at the ready throughout, delightful music coasting along in the background, while dancers swayed somewhere beyond the crowd. The sight stopped Phoebe in her tracks as a thrill raced through her body, full of anticipation. She was actually attending a ball!

Taking in a breath, straightening her posture, trying to look every bit the dashing princess she hoped she presented to the world in that moment, Phoebe walked straight into the madness, her magenta eyes never settling on one person or decoration for too long. Eyes caught were greeted with polite, excitable nods, a few words of greeting for those few chatty enough to engage her, but there was a clear direction to the path she cut through the party-goers, a discernible determination in her eyes as they caught sight of the dancers just out of range. She felt her heart lift as she neared them, already scouting out possible openings or available partners, depending on the song. The first opportunity she got to join them, she would!
---